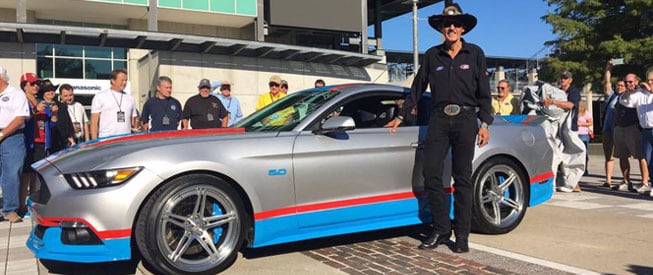 If you want to know which Ford Mustang in North Carolina has the most horsepower, you won't have to look further than County Ford. Our Alamance County Ford dealership is home to one of the most powerful pony cars in the United States.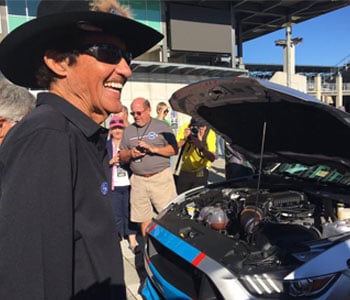 This custom built Ford Mustang GT comes from the folks at Petty's Garage, a high performance speed shop founded by none other than Richard Petty himself. The legendary "King of NASCAR" set up shop in Level Cross, North Carolina, to carry on his lifelong hobby of building and tuning fast cars.
Petty's Ford Mustang GT King edition is a beast of a car. Adding a supercharger to the 5.0-liter V8 engine, in addition to custom body work and Ford Racing parts, the re-tooled fastback makes 670 horsepower - more than Ford's own GT350 performance model. That's a seriously fast car.
It got our attention at County Ford, but when we called up Petty's Garage, we had one question to ask: "Can you make it more powerful?"
They said, "We sure can."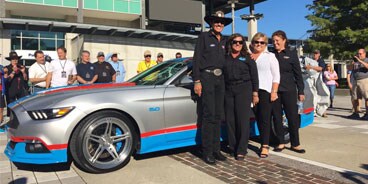 Introducing the County Ford Custom Mustang "King Premier" Edition.
The third generation of the "King Edition" Ford Mustang GT may have come off the line as a 2017 Mustang GT, but Petty's Garage outdid themselves with the modifications. As the exclusive builder of these models, they surpassed their own Level 2 horsepower upgrade and headed straight to Level 3. When the tires stop squealing and the smoke settles, this is what you're looking at:
Ford Racing 670 HP TVS 2300 Blower
Ford Racing Cold Air Kit
Upgraded front and rear axle
Petty's Garage custom body kit and interior enhancements
Katkin Leather package
HRE Monoblock Forged Wheel P107 (20x10, 20x11)
Contintental Tires (255-25-20, 305-30-20)
In its final form, our one-of-a-kind Mustang weighs in at a staggering 825 horsepower.
The King edition is also available in a new EcoBoost model. This radical powerhouse features a race spoiler and a signature center exhaust system.
Petty's Garage has only built an exclusive 500 "King Edition" models, plus a limited 43 custom models featuring a silver scheme to honor the 80th birthday of the "The King" Richard Petty.
It's time to drive down from Burlington, head over from Greensboro, or make a trip from wherever you are in the southeast to visit County Ford in Graham, North Carolina.
The King awaits.
New Ford Mustang for Sale in Alamance County
Come to see our one-of-a-kind Mustang GT King Premier edition. Stay to browse our inventory of new Ford Mustangs.
Ford launched the newest Mustang in 2014. The completely redesigned sixth-generation Mustang has earned recognition for design, safety, and performance. It's available with 3 engine options, including:
2.3L EcoBoost (310 HP)
3.7L V6 (300 HP)
5.0L V8 (435 HP)
You can also choose from a 6-speed manual or 6-speed automatic transmission with paddle shifters.
We encourage you to check out our inventory and schedule a test drive for your next visit to County Ford. America's favorite pony car is better than ever, and you've got to see what it's like behind the wheel.